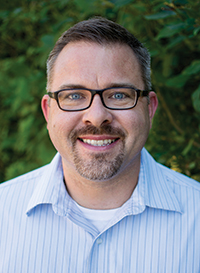 Dr. Andrew Erlandsen
Andrew Erlandsen, ND, is the primary contact for the Food as Medicine Institute.
Dr. Erlandsen earned his Doctorate of Naturopathic Medicine from the National College of Natural Medicine (now National University of Natural Medicine – NUNM) in Portland, Oregon. In 2013, Dr. Erlandsen worked on a team to develop NUNM's Master of Science in Nutrition (MScN) degree and is currently the Chair of the program. As an Assistant Professor, Dr. Erlandsen teaches a variety of nutrition courses in all of the academic programs at NUNM. He also teaches courses in clinical research and mentors students on their thesis projects. Dr. Erlandsen is currently working with a research team examining the effects of the ketogenic diet in people with Parkinson's disease.
Dr. Erlandsen leads community-based nutrition and cooking workshops as part of the Food As Medicine Institute (FAMI). Since 2012, he has been teaching the Food as Medicine Everyday (FAME) series in Banks, Oregon, reaching over 100 community members.
Prior to NUNM, Dr. Erlandsen earned his degree summa cum laude in Food Science and Human Nutrition from the University of Maine. With over 10 years of food service experience, cooking and managing restaurant kitchens, he has a true passion for food, nutrition, and using food as medicine. You can contact Dr. Erlandsen at aerlandsen@nunm.edu
________________________________________________________________